Fallen Alien: FKA Twigs
Stirrings. Swollen emotions. Otherworldliness to refract our true humanity.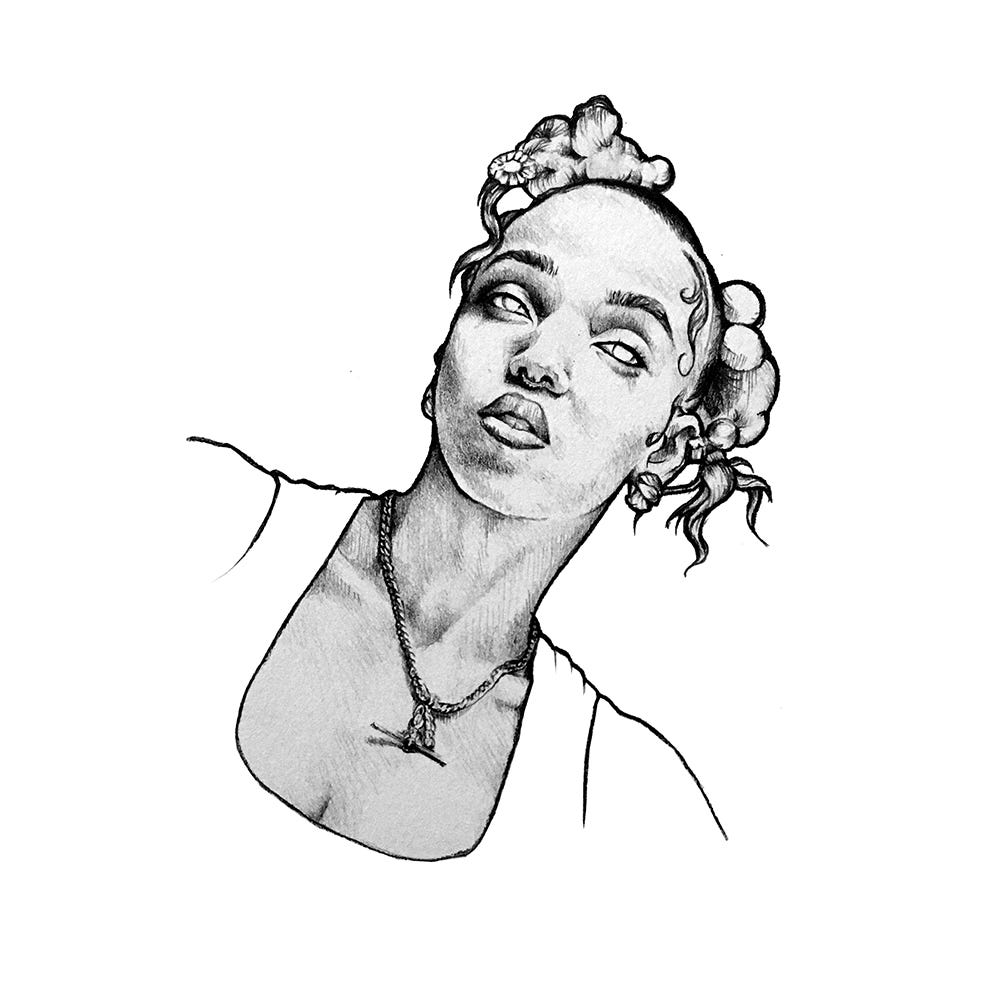 Illustration
: FKA twigs by
Becky Glass
FKA twigs - MAGDALENE
As a kid, I played my first console game in the toy section of a small department store in one of England's sleepiest market towns. It was called Pilotwings for the SNES. My character was a skydiver who had to try to shift onto hot pockets of air that lifted you up… like unrequited love, I think the aim was to fall for as long as possible.
Until that moment I had only played 2D GameBoy games in monochrome. I also had no idea that there were different types of air. Those 5 minutes of falling through someone's pixelated creation was a lot for my 8 year old brain to process whilst leaning against shelves of beige towels and light brown pillow cases.
This was my first "everything became Technicolor" moment and it's a feeling I return to when a record begins to come into focus... especially when from an at first befuddling abyss, the songs begin to overflow with emotions…
[fade to black]
MAGDALENE is a series of small moments that are imbued with so much meaning that they become a cacophony of epiphanies. Every moment is magnified. Zooming out can give you vertigo or whiplash and may cause dizziness.
Disclaimer: Do not operate heavy machinery whilst stepping inside this record.
MAGDALENE is overblown, theatrical, orgasmapheric…
It's sharp intakes of cold air and slow, warm sighs. It's more mind palace than headfuck, with the tranquil waters of its abandoned Roman baths sitting in the storm-eye of a racing metropolis (think: Fifth Element or Blade Runner or the lost city of Atlantis). 
[roll VT]
"Vacant are my nightmares, rest becomes my nowhere…" — 'daybed'
For all the ripe fruit and lasers, mind-blowing sword skills and video game tears, tales of fallen monoliths and distorted declarations that you've "never seen a hero like me in a sci-fi" and everything else that's in flirtatious conflict in FKA twigs' latest opus, there's also what you could call, if you were so inclined, 'a true heart'.
The hummingbirds and emotional hurricanes can't obfuscate the fact that Tahliah Debrett Barnett deals in a purity. 
They say you have to go there to come back and it's in a swirl of otherworldliness as much as when everything falls away that you get glimpses of answers to those big questions of what it means to be human. It's the ultimate curtain drop, only to discover the wizard's hall of mirrors...
The meaning of life flickering in and out of focus is what makes everything about FKA twigs so damn moreish.
It's easy to just get lost in it all... There's enough talk of aliens and angels to disguise "the truth" glitching away in the corner of your eye. It's also impossible not to find the imagined flesh and longing in one corner of MAGDALENE a welcome distraction from the ecstatic human history in t'other. Tracing the outlines of tumbled civilisations and erased extraordinarians who happen to be women is set to a soundtrack designed for watching their carcasses float on by... beneath the glistening surfaces of every tidal pool or bloody ocean, limbs and hair and Laura Palmer's icy face… and yet FKA twigs dives into the water. You feel a pull to follow her, unquestionably, because who knows where you might end up... 
It's fair to say I've been in awe and slightly obsessed since hearing 'Ache' when she was still called Twigs (a track I managed to sneak onto late-night BBC radio long before she was on anyone but a few bloggers' and XL's radar).
[glances to camera]
Take a moment if you've never heard it:
Her show around the release of LP1 at London's ICA felt like that moment of playing my first console game because something ch-cha... transitioned...unfurled... I didn't notice the unlocking inside of me at the time because I was so in the throes of her poise and OMG-she's-the-second-coming-of-The-Purple-One. However, within the passing months I found myself on a quest for increasingly sensual music. As a kid who'd been obsessed with smooth r&b before punk, metal and whatever you'd call the bleak sauce of Arab Strap descended into my world, beats with sweat dripping from them had finally returned to me. Throwing off the cloak of seriousness, music became a place for slow purposeful motions and closed eyed gasps again. Emotions rather than emotional, if you will...
I realise I've fallen into apparently the worst music critic cliche of writing about myself instead of about the music but as you'll discover it you don't unsubscribe, I'm all about that personal processing. As a reader, I always reach my hand into the darkness in the hope of finding a hand that (imperfectly) fits mine — especially when it comes to highly-personal records and the way in which we intersect with them. Especially when music like this is so rich with what it means to be human, even if it could easily be misconstrued as quite the opposite... We experience the world in our own ways and sometimes, just sometimes, the parallels light up the dark.
Back to the record itself before I hook myself from this vaudeville theatre in our Siamesed mind... It's in lines like "in the shadows, hiding from yourself" where there's a whole other dynamic and purpose to these paintings as sound (yes, that's "pretentious" because all the best things deserve a leap beyond the ordinary. Jejune words don't cut it) (you literally subscribed to a newsletter called Drowned in Sound, you secretly knew what you were in for...).
In the margins and write large on MAGDALENE are inspirational messages to be and do and think and believe in more. Walls crumble. Binaries splitter. Books fly from shelves. Ghosts plant kisses on your forehead...
"Awakenings" is a dominant theme in the wordcloud of people talking about artists like Kate Bush (whom she seems to knowingly wink to with the opening line to 'Mary Magdalene') and Bowie, and whilst their stirrings did so much for so many previous generations it's a big bigger - ahem! - spoon that's required for Janelle, Perfume Genius, SZA, FKA Twigs and many others to turn the tide of the 2020s. A river of ignorance requires more than beavers to build its dam. It's going to take more than moon juice for these cauldrons to work their magic against the current tide, but in accumulation, through all the gloom and despair, you can taste the hope in the glitter on the breeze. And in a time that wants us to feel less than, we can all fall down the translucent wishing well together… yeah?
---
Further reading: FKA twigs' track-by-track guide to MAGDELENE for i-D. Here's what she says about 'fallen alien'
fallen alien
"If other people perceived me as an alien girl, maybe that's just because what I had done hadn't been done before, so other people felt it was foreign. But in my mind it was always how I'd been; I was just putting it down on paper. To me it didn't feel foreign, it felt obvious... and more human than I'd ever been, because I'd put work out. And that's really exciting and grounding and truthful."
Further listening: Adored her line "like a reluctant march to an unknown destination" about the drum machine on 'Mirrored Heart' in this edition of SongExploder. It's more of a flash of a thigh in a long coat than a total deconstruction of her work, which makes it all the better a listen. You're probably going to think about this episode all the time tbqh. https://songexploder.net/fka-twigs
---
Whilst I'm recommending podcasts… over the last month, there was a brilliant 3-part series by KEXP's Sound & Vision podcast on MeToo in Music, exposing what happened at Burger Records and how symptomatic it is of the wider industry. The series concludes with some really powerful line from the always brilliant music journalist Jessica Hopper, including "if there's no women over 25 in your music scene… run!"
They're brilliantly edited episodes, so not a huge time investment. If you're not already a subscriber, head here: kexp.org/podcasts/sound-vision/
---
FOLLOW THROUGH
This week's 'account you should follow' is illustrator Becky Glass, who kindly provided the FKA twigs illustration above.
Her work is intricate but often indelicate af. She's just released a very sweary colouring book for adults, which features a lovely nod to Martha Wainwright - for fear of spam filters I'll use the acronym - BMFA, which features on Martha's self-titled debut album that I released on the Drowned in Sound label in what feels like another life.
Follow By My Glass Eye on Instagram and grab her book from all good (and probably some terribly monopolistic) book stores: instagram.com/bymyglasseye
Here's what she drew in tribute to RBG: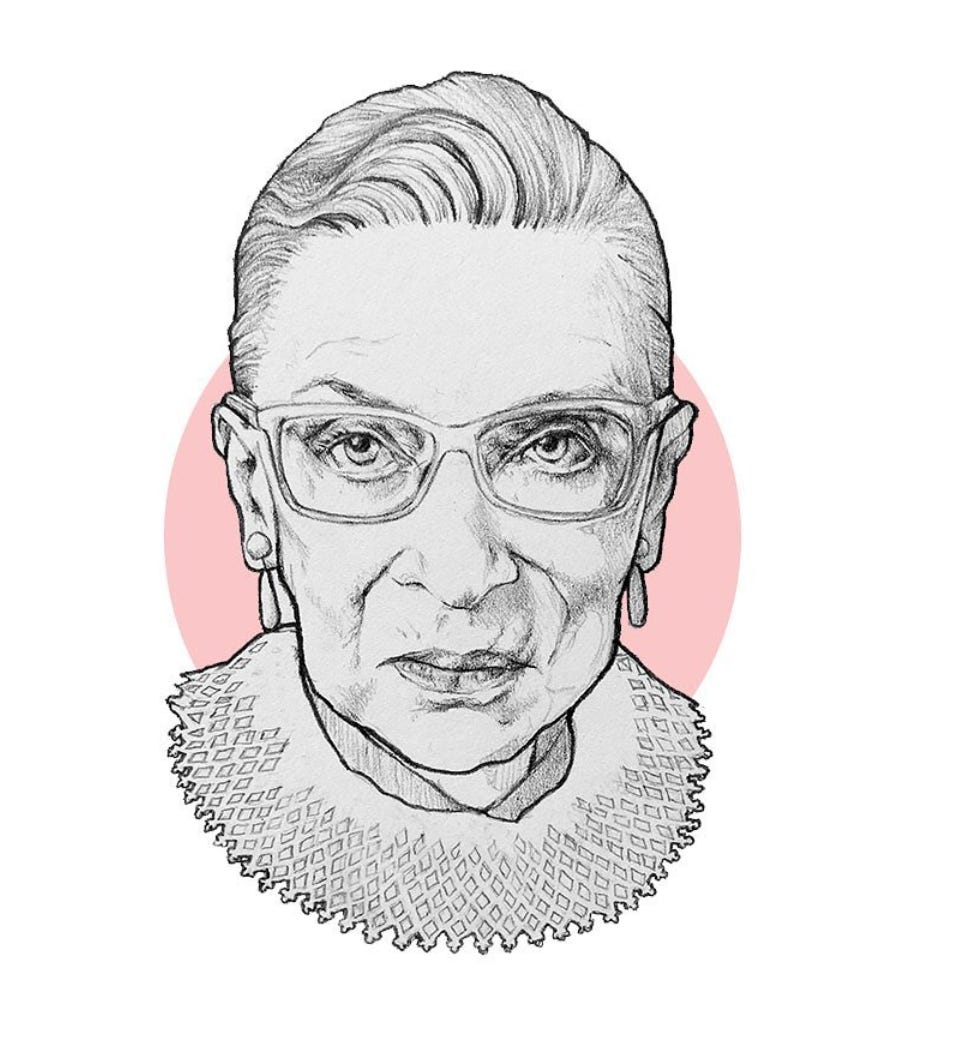 Thanks for reading all the way to the end. And thank you for all the kind feedback to the first newsletter, which if you missed it you can find here.
Until next time,
Sean xo
Founder, Drowned in Sound
@seaninsound
p.s. if you're enjoying this newsletter, please consider forwarding this album recommendation to one friend you think might enjoy it. If you can also take a second to share this on your social media, that'd be great too. Thank you in advance.