And the winner of the Neptune Prize 2020 is...
Our annual alternative to the Mercury Prize revealed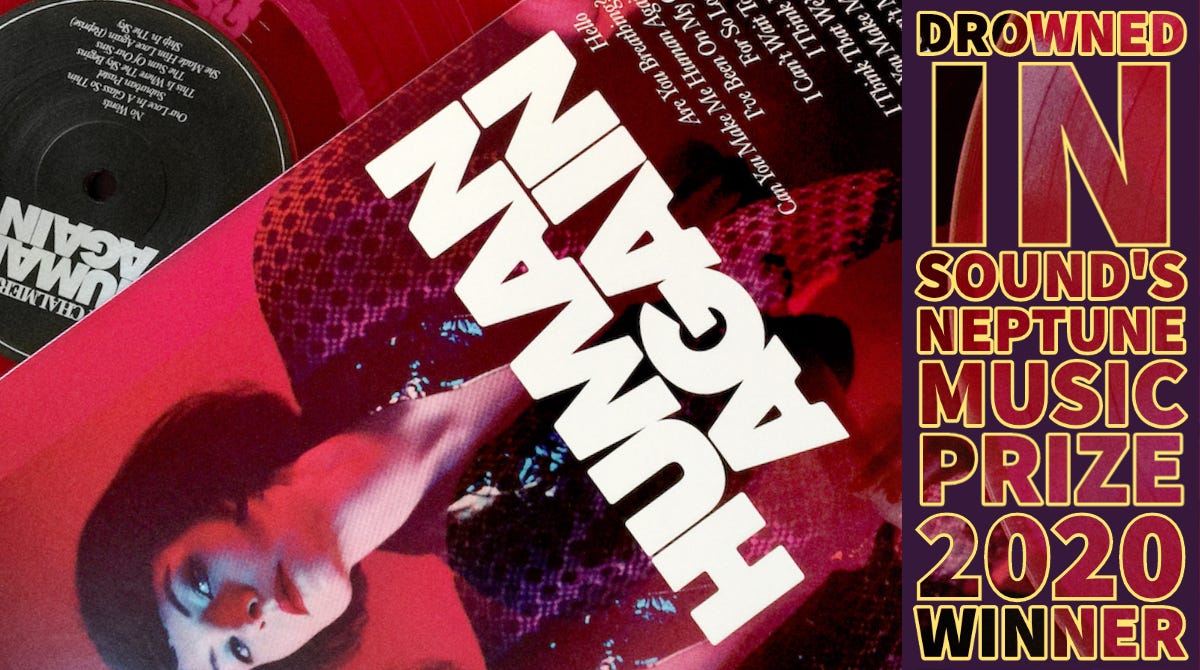 Congratulations to
Human Again
by
Jorja Chalmers
As just announced on this month's Drowned in Sound radio show (listen back here), Human Again has topped our annual Neptune Music Prize poll. It's a record that fuses her skills as a saxophonist with synths that feel like a call from the dawn light. It was released by the Italians Do It Better label late last year and I'm so thrilled it topped the poll.
Before I share something I wrote about the record, here's a reminder of who else was on this year's shortlist of 20 albums:
MAGDALENE by FKA Twigs

When I Have Fears by The Murder Capita

Sixteen Oceans by Four Tet

Love + Light by Daniel Avery

Human Again by Jorja Chalmers

Walking Like We Do by The Big Moon

Lost Girls by Bat for Lashes

SAWAYAMA by Rina Sawayama

What's Your Pleasure by Jessie Ware

925 by Sorry

Milkteeth by Douglas Dare

Untitled (Black Is) by SAULT

Six Lethargies by Keaton Henson

Note On A Conditional Form by The 1975

Any Human Friend by Marika Hackman

Kitchen Sink by Nadine Shah

Debris by Keeley Forsyth

The Talkies by Girl Band

More Arriving by Sarathy Korwar

Animated Violence Mild by Blanck Mass
Explore all of these albums on this Spotify playlist
Get to know this year's winner with a playful piece of purple prose I wrote last year…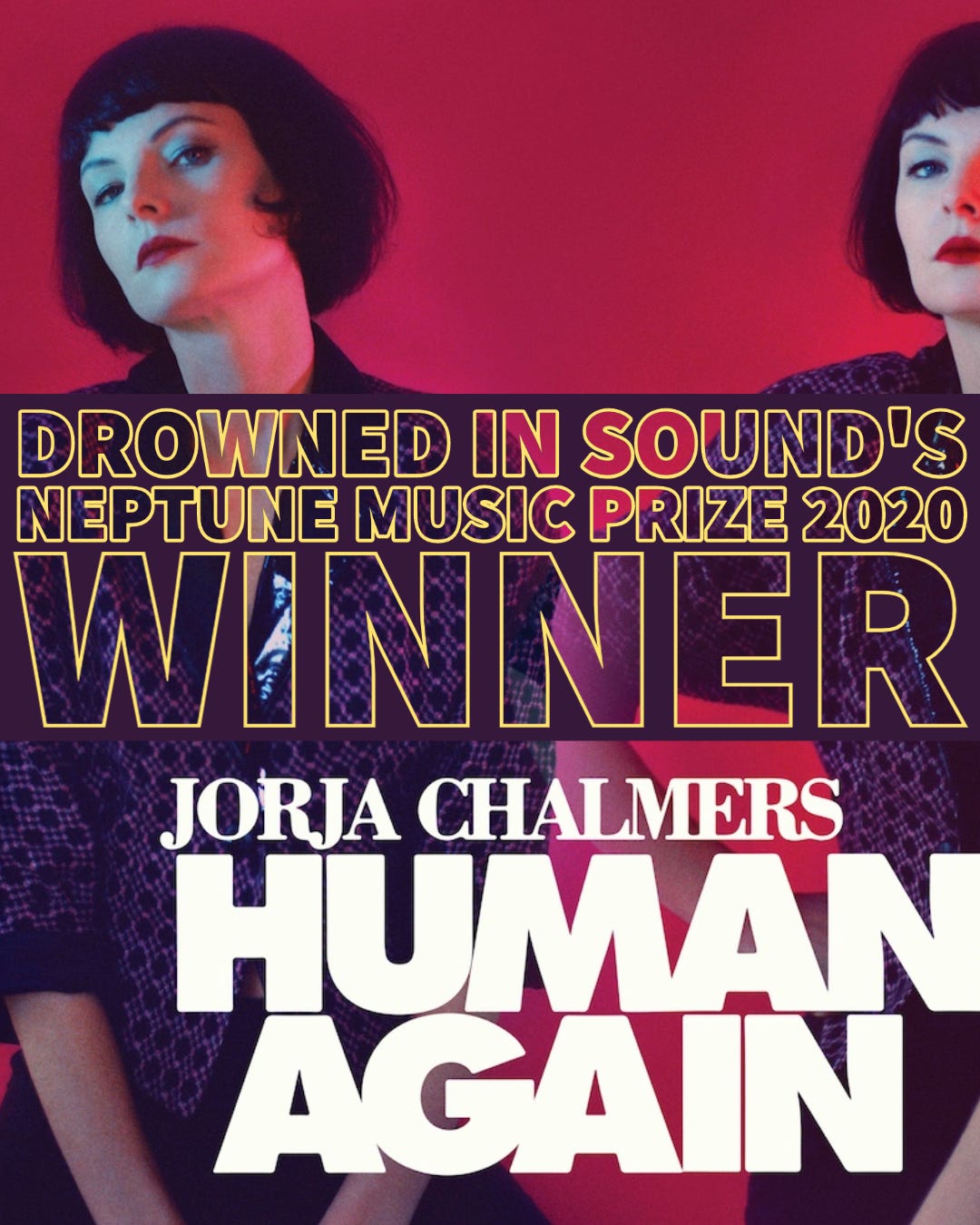 JORJA CHALMERS is risen . . . 
JORJA CHALMERS is Human Again . . .
From Bryan Ferry's side to lighting up your night sky with a neon symphony, JORJA CHALMERS' debut album is here . . . beware!
Rewind. There's a ghost in the machine and it's trying to coax you in. A ghost in the machine that's lit up by its Cheshire Cat grin. A long shadow, holding a saxophone, twirling in a puff of smoke.
It was always there. Dormant. Sleeping on the shore of Newport Beach in Sydney Australia. Waiting – patiently – to be released. Since the dawn of another time prophecies only hinted at what might arrive in London.
On one unremarkable Tuesday in 2004, the tectonic plates of Babooshka, Glowbo and Vespertine briefly parted and from the amber plumed these creatures of Subterraneania humming a new strain of serpentine song. You've likely heard their names, whispered at first: FKA twigs, Charlotte Adigéry, and - until now they daren't speak the final in the trilogy - Jorja Chalmers. 
"Ice cold, the kind of cool that bruises and burns," that's how wiped out civilisations described Jorja's creations. Lured in from the apocalyptic heat, many a soldier, sailor, spy and many in between met their peril in these purple clouds of melodic bliss.
Pale blue eyes glance across the bar. The silhouette plugs in... you, oh you… you float! Suspended in sound, in reverie, you drift until the tidal brass of 'This Is Where The Night Sky Begins' calls you down to earth. With a bump. You find yourself back in those red lights and smoky alleys. Outside The Roxy but in a town that's unfamiliar. You breathe. You think you've clocked out of the machine but you've simply fallen under the spell of another. Voices swirl. The melody clenches to your brain. Everything fades to black . . .
All you remember is the sweet-sweet smell of roses and the words "Aries, oh so Aries!"
Now, for the first time ever, the essence of this spectre has finally been bottled, dried, and crushed into a fine powder with lac bugs. Captured in hotel rooms surrounded by liquor and lace as a VHS of Bladerunner plays on a dusty screen. Distilled in Bryan Ferry's studio. Brushed by Johnny Jewel's glittering hands. The combination is intoxicating. 
As the needle drops again and again, all over the world, the sepultural but petal soft synths sprawl toward the dawn light. The loneliness of those roads. The human heart of a Saturday night discovered early on a Wednesday morning... The machine music whirls. You float. The saxophone wails. You drift.
Below, a cursor flickers and as it pulses, it types: To your left there is an ancient computer, calling you to press the sphere marked with a triangle and two lines. Press play at your peril.
---
Pick up a copy of the album from the Italians Do It Better store or from Jorja's Bandcamp