20 years in 1 album recommendation
Raise a cup to Efterklang's opus.
Before this week's album recommendation, I just wanted to [touches neck and clears throat] ahem… to say a few words…
As a kid, I was always fascinated by how light bends in water. It's really simple science but like magnets, rainbows and how hard it is to flood an ants nest, the refraction of torch beams always felt like nature's magic.
I mention this for a few reasons. Mostly, because with Drowned in Sound turning 20 this weekend (thank you for all the kind messages!), my thoughts have been darting around my personal highlights reel of the past two decades. 
I had some fairly grand plans for marking the anniversary which Covid crushed, and then the back up plan of relaunching the DiS label has been put on hold due to a combination of exhaustion and let's just say "life" (or whatever you can call this crushed accordion of a year, opening painfully slowly with an infinite yrrrrrrrrp noise).
Because "birthdays" have been dubbed a time for celebration, I've been trying not to focus upon regrets nor dwell on the frustrations. However, an emo cloud always haunts my heart and I've found this moment a fairly big inflection point. Reaching a big anniversary like this, amongst all the warm wishes, can feel a bit (don't say it, don't say it, don't say it!!!) like the water has almost filled the room. There have been so many times I've wanted to (sorry in advance for this one) pull the plug. Yet, here I am, floating in sound (glad I didn't go with that name) and all the lightning strike epiphanies and 4am bright ideas seem to be bouncing around the room. Some of these sparks came to fruition, either as metaphors in sentences of reviews or in big projects that took months if not years to happen.
To construct what Drowned in Sound became happened in 1000s of tiny steps from me and hundreds of other people. These acts of registering domains, moving code around, publishing opinions about music, and creating a space for online conversations didn't seem like brave leaps at turn of the century. Filtered through the minds of others, I've discovered what an unusual thing building something like this was. Especially for a teenager, with a group of friends I'd made over instant messenger - some of whom I still haven't ever met "irl"!
There were so many things we've done over the years that were either out of instinct or financial necessity. There was the birthing of The Quietus and hosting conference panels for Tony Wilson. There were the things we did "for exposure" like the monthly playlist blog posts for a start-up called Spotify, the podcast that won a few awards back in 2006 (yes, we had to explain what a podcast was A LOT), the partnership with Fopp to promote EP launches for artists like Laura Marling, the monthly Saturday afternoons at Notting Hill Arts Club, and the festival stages everywhere from Leicester's Summer Sundae to Iceland Airwaves. Not to mention the back stage filming we did of sessions and interviews at Latitude in 2012, which remains one of my favourite things we've ever done (a couple of photos here).
There was the spin-off record label too. Amongst Drowned in Sound Recordings' various single releases from acts you've possibly heard of like Kaiser Chiefs, Bat for Lashes, Blood Red Shoes and Emmy The Great, there were albums by the proggymathrockers Youthmovies, the hugely under-rated emopostrockers Jeniferever, and the maudlinposterrockers Redjetson. There was also Martha Wainwright's devastating debut album on our label, the success of which paved the way for me signing a heap more acts, although mostly Canadians in the form of Metric and The Stills. 
Of course, running a label was nearly as a poor a business model in the noughties as running a website reliant on advertising revenue... The combination of both of these things spreading my brain onto two tandem bikes pedalling in slightly different directions was a bit much. And both have, despite the continued growth of traffic, been what's made the last decade - how do I put this? - "quite tough".
Music has always been the driving force behind my/our decisions. Finding ways to turn these pulses of passion when I hear something extraordinary and helping it into the world is very much at the core of why Drowned in Sound exists as a platform for me, and for everyone who's sailed in the website. I am so lucky to have harnessed this energy, found the right people to help make the vision a reality, and been able to empower everyone who has contributed to the site's editorial and community - at least this was the plan, and it sure wasn't perfect.
This brings me to this week's album recommendation (I'm really enjoying doing this newsletter btw, and hopefully you've dug into the FKA twigs and Autolux albums recommended thus far)…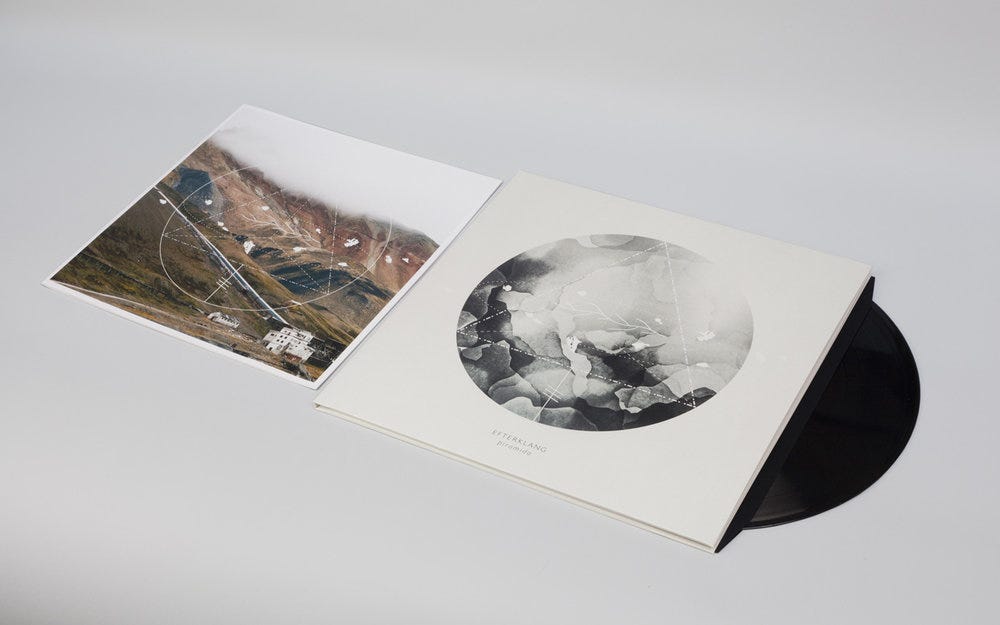 A Scandinavian Crime: Efterklang
I said I wasn't going to dwell on regrets but… I was planning to write about something else this week but… I saw music critic Simon Price tweet something this morning and then discovered that this album only reached number 31 in our albums of 2012 list. This is a true crime. I'm sorry to everyone we let down.
Admittedly, 2012 was the year of so many extraordinary albums, including Kill for Love by Chromatics and Tramp by Sharon Van Etten, so it's fair to say my obsession with those records and several others, did mean I didn't fully delve into Efterklang's 4th album until I saw them perform it live at Latitude in 2013 (the thought of which sends a peaceful rush through my bloodstream).
Efterklang manage to do something that's overlooked in our global world, and that's to make music that's brimming with where they're from. You can sort of hear this local pride in the way New York's ominous skyline casts a shadow over The National (or maybe The Walkmen or Grizzly Bear), the way Arctic Monkeys couldn't be from anywhere but Sheffield, and how Sigur Ros have the strangely cheeky and glacial feeling you encounter in Iceland that I can best describe as mother nature's smirk…
I realise I'm massively oversimplifying an incredibly complex idea here but I really believe that to be unique enough to stand out, radiating with what you know and where you're from (even if that's a made up world in your head!), is crucial. I could list thousands of acts who despite looking and sounding the part, there's something disingenuous about the jumble of puzzle pieces at the foundation of what they do.
If there's one thing I've learnt over the last 20 years, it's the importance of finding that core of who you are, then finding a way to extrapolate it through what you do. You can't teach someone this but the more musicians I've met and gotten to know, the more I start to realise that the certain light of some places permeate through the best music.
Location, Location, Location
Piramida is one of those extraordinary albums that's hard to put into words. Mostly because words like a "a lush Sunday duvet for your mind" are likely to do it a disservice.
This derelict palace of slow grooves takes a while to process. It's a calm holiday you saunter through but as time goes by, you really can't stop thinking about how special a place you visited. Every gargoyle in the background of a photo and every riverbank in your memory becomes that little more vivid.
Location is so important to the creation of this record, as Luke Slater wrote at the time in his 9/10 review of the album:
"...Topping each of their previous records – in particular the more melodious and orchestral-pop styled Magic Chairs – might not have necessarily have been at the top of their 'to do' list when setting out, but upon deciding to travel to the Norwegian Arctic to gather field recordings and create some of their own, it became a rather grander and more ambitious beginning than anything before it. They ended up with over 1000 field recordings and samples following their nine-day stay in Pyramiden and many of those recordings are scattered throughout the album, whether providing a skeleton to a track or embellishing on a large or small scale.

That percussive introduction to album opener 'Hollow Mountain' is comprised of strikes of a fuel tank. There are many other instances of those 'found sounds' in each track, some being more integral than others - some skirting the edges, others more bold and prominent in their location. Though that back story is one of profound importance and is an element which no doubt enhances and ramps up the intrigue for every sound on the record, it is not what proves its weight. "
In fact, the band spoke to Luke about the making of the album, and it's one of my favourite pieces we ever published. Read it here. You can also watch a brilliant doc about the movie on Vimeo.
I'll leave you this week with one of my favourite tracks from the album, this is 'The Ghost'.
---
FOLLOW THROUGH
This week's thing you should follow online is… well… it's my other newsletter, The Unhappy Hour.
I'm thrilled to confirm that this week it features our first guest post from my favourite artists, Juanita Stein, who you may know better as the lead singer of Howling Bells. With her third solo album on the way, she's made a special hour-long Unhappy Hour playlist and told me a little about her choices.
Yu can read and hear previous playlists I've compiled based around an artists catalogue, including Marissa Nadler, Nick Cave and Lykke Li. Subscribe here: https://unhappyhour.substack.com/
---